Carl and Heidi
Wulff Brothers Livestock (WBL) was created in 1991 by brothers Carl and Tom Wulff. In 1997 Tom decided to enter a new venture and Carl continued to operate WBL with his family. Carl first got involved with livestock at the age of 13 with a 4-H steer project and he also helped break show heifers for a local purebred angus breeder. Throughout High school he continued to show livestock in 4-H and FFA.
He continued his education at Sacramento State University majoring in mechanical engineering. During his time at college he worked for Hunt Wesson Food where he developed a harvesting protocol to successfully harvesting Orville Redenbacker popcorn with combines.
Carl married Heidi Struble in 1978 and had four children, Charlie, Gretchen, Holly and Chester. As the kids got older each one worked with the cattle until they left to college.
Carl worked for an engineering firm in Woodland California that specialized is water resources. Carl spent 28 years designing water wells, well rehabilitation protocols and construction management. In 2018 he retired from his engineering career to focus his efforts on the registered angus herd.
When Carl is not working with cattle, he can be found at their cabin at Lake Almanor California with his family hunting or fishing. Carl has also continued to be involved with local 4-H and FFA groups.
Heidi Wulff, married to Carl since 1978, and is the co-owner of Wulff Brothers Livestock. Heidi, originally is from Woodland, California and attended UC Davis California, graduating with a degree in agronomy in 1981. She started her involvement with livestock as a teen, participating in 4-H. She has a passion for gardening and canning. She has been known for making her famous jams and jellies, that many bull buyers receive. Heidi has been attending all bull sales and events with Carl since the beginning and organizes the buyers lunch for the Black Gold Bull Sale in Colusa, California. Heidi is known as "Nanny" to her 5 granddaughters, who love to help her around the farm. When Heidi is not helping with day to day cattle tasks, she can be found crocheting, knitting, with her chickens or traveling. With a side by side comparison, Heidi has much nicer hand writing then Carl, making her the designated ear tag writer for the last 40 years.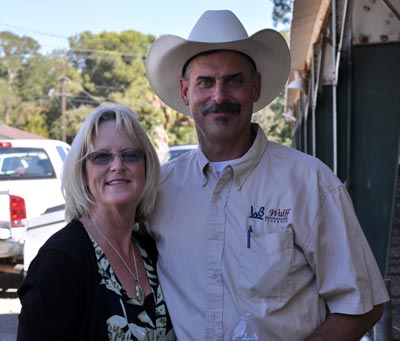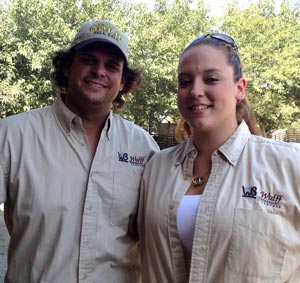 Charlie and Amanda
Charlie Wulff, the oldest son, is married to Amanda Wulff. They met when Charlie was playing football at Eastern Washington University, and Amanda was the teams video coordinator, later getting married in 2011. Charlie received an athletic scholarship to attend Eastern Washington and was the starting center for most of his years there. Charlie has an Interdisciplinary degree from Eastern Washington University and Amanda has a degree in Anthropology. They have three daughters, Carly (8), Caylee (5) and Claire (3), who enjoy helping with the cattle, and love horses. Charlie has been involved with Wulff Brothers Livestock since childhood and was the former ranch manager for B Bar T Cattle Company, working from 2008-2018. Charlie and Amanda reside in Edwall, Washington, and are very involved with Wulff Brothers Livestock. Charlie is a supporter of the local 4-H and FFA chapters, as it was a valuable part of his childhood, showing animals since he was 9 years old. When Charlie isn't working with the cattle he can be found hunting, fishing and bow fishing from his Lowe boat. Charlie loves to take his family with him when spending time on the water.
Gretchen and Joey
Gretchen Wulff Baer, married to Joseph Baer. They met when they attended Woodland High School together, where Gretchen was involved in 4-H, FFA, volleyball and track and field. Gretchen attended Cal Poly University, graduating with a degree in Agriculture Communications in 2012. She continued her education at the University of Florida, completing her masters in Agriculture Communication in 2014. Gretchen and Joseph got married in 2015 at our Cabin on Lake Almanor, California. They then moved to San Antonio, Texas, where Joseph was stationed at Fort Sam Huston. Joseph recently medically retired from the Army, and they currently reside in San Antonio, Texas. Gretchen is the lead graphic designer in the marketing department at Berridge Manufacturing Company. Gretchen and Joseph have 2 dogs, Belle (corgi) and Brutus (pug) who have spent time working cows, regardless of their little legs. Gretchen works diligently on the Wulff Brothers website, catalogs, and sale information, keeping everyone informed on the quality animals produced by Wulff Brothers.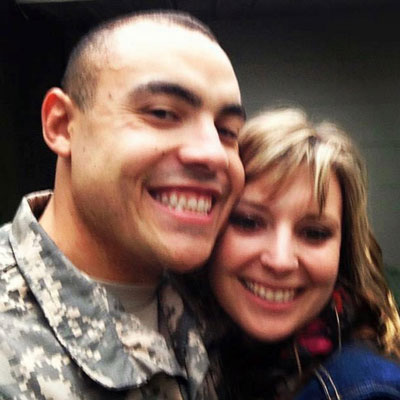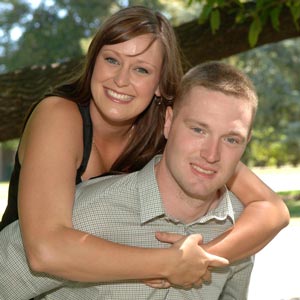 Holly and Heath
Holly Johnson, married to Heath Johnson, currently lives in Colorado Springs, Colorado. Holly was involved in 4-H, FFA, and played volleyball when attending Pioneer High School in Woodland, California. Holly attended Washington State University, finishing her degree in Maternal Child Health and Human Lactation at Union University. She works as a volunteer birth doula and in the field of lactation. Holly and Heath, married in 2012, have lived all over the country due to Heaths career in the US Army. Heath joined the Army at the age of 17 after graduating from Soddy Daisy High School in Tennessee. They have two girls, Amelia (5) and Ellie Mae (3), who love helping on the ranch when they visit Nanny and Papa. Holly and Heath manage the social media side of Wulff Brothers Livestock and enjoy sharing with everyone the day-to-day life on the ranch. Holly enjoys cooking, spinning yarn, and knitting. Heath enjoys wood working, hunting, and golfing. The girls enjoy riding horses, crafts, working with papa, and taking care of their two dogs; Milo and Benelli, and cats Reese Cup and Kit Kat.
Chester and Katie
Chester Wulff, is the youngest son of Wulff Brothers Livestock, and has been involved before he could even crawl. When attending Woodland High School, he played football, and was very involved with 4-H, FFA, showing hogs, steers, and sheep. After graduation he attended Lassen College, graduating in 2017 with a degree in Gunsmithing. His time in Susanville he met his girlfriend, Katie Lee, who is a competitive breakaway roper. Chester and Katie spent a few years in Washington working for both Wulff Brothers Livestock and B Bar T cattle company. Recently they relocated to Northern California and continue to travel to Washington to help with Wulff Brothers Livestock. Chester currently is a machinist building farm equipment for SWECO.
When Chester and Katie are not working cattle, they can be found bow fishing, fishing, roping, and helping other local ranchers. They have a passion for agriculture and continue to share their passion everywhere they go.